Today we'd like to introduce you to Allen McClain.
Alright, so thank you so much for sharing your story and insight with our readers. To kick things off, can you tell us a bit about how you got started?
Allow me to introduce myself, my name is Allen McClain 33-year-old Memphis native, born and raised. I am Christian, a minister, Husband to my gorgeous wife, Janee McClain, Father to my two little boys Micah & Asher, and mentor/basketball skills, trainer. I have always been into sports, but basketball was my focus coming up. So I guess you can say this is where my origin story begins.
Coming up in the inner city of Memphis there weren't many basketball trainers, as a youth, I mostly looked forward to getting trained in the backyard with my dad, or out at the East Precinct "Halle Stadium" running the track and steps of the bleachers. The competition level in 2007 was epic, so many great athletes came out that year in HS. I hailed out of Wooddale High 9th & 10th grade and Overton High in 11th and 12th, those years of my career in HS were like the golden years, had to make a name for myself and had to prove to Memphis that I belonged among the top players.
The thing is I had to grind and get it year after year, around my 11th-grade year, I finally got a trainer that pushed me to new heights and helped me to get acknowledged as one of the top 20 players in the city of Memphis in 2007, Scotty Mason. From then on through my college career at Belhaven College in Jackson MS and Bethel University in McKenzie, TN I continued playing basketball and showing and proving on and off the court. In 2013 I Graduated with a 3.5 and a bachelor's degree in Business Management.
Afterward, the goal was to pursue overseas playing ball professionally which had its difficulties but I was able to play in ABA leagues in Texas and in Mississippi, which kept me going and striving to attain more. Fast forward to 2015-2016, my new home was in Phoenix, AZ, working and trying to figure out what it was that God had called me out there for. The weather there wouldn't allow me to think straight haha, 116 degree weather, and the car I was driving had no A/C, I was literally in the hot seat daily until I purchased a new car.
Working in a Fortune 500 company was beginning to be the normal routine for me and was honestly getting stressful because I knew God was calling me to do more. Therefore I began to apply for basketball jobs in Phoenix, Mesa, Scottsdale, and Guadalupe, AZ. Got my first volunteer position with Boys and Girls Club in Guadalupe, AZ working with ages 9 and under, and the team I had wasn't the best but their hearts were full of joy just being out on the court. I thoroughly enjoyed coaching them even though we didn't win a game, but every day, I coached them was a win because of the amount of fun we had in practice and games.
Next, I was hired as Head 7th grade coach for a school named Desert Shadows in Scottsdale, AZ, and after this season it really clicked, I mean the light bulb was flashing. Coached this team to an undefeated season and we even won the 7th-grade championship that year in 2016. After the season I came to the realization that this is where God needs me because I would be able to mentor the young men and even the young women that come across any gym I am in.
So this is the part about how I got started, a pastor that I will never forget in Phoenix met with me that summer after our winning season, and asked how I would like to use his gym for free as long as I mentor his youth from time to time on Wednesdays. Who is going to turn down a free gym especially having the passion that I have and still do, to lead the youth and sharpen their skills? My wife was very excited for me but that excitement kind of ceased for a while on the day I found out that I was fired from the fortune 500 company which was paying VERY well at the time.
That very day, my wife told me that God was up to something and He needed me to keep the faith because He is about to open some new doors in my life. You know what? She was right and I got right to work ironically when I got fired. I networked, sent out emails, talked to pastors, church members, etc so that I can get the word out that I was a basketball trainer. I hosted free clinics, 15-dollar training sessions, and even some free sessions, as well as I, got on my feet on the West Coast.
In 2018 my Wife and I decided to move back to Memphis, and from there I picked up where I left off and just added on to what God had called me to do in Phoenix. Training, developing minds and mentoring.
Can you talk to us a bit about the challenges and lessons you've learned along the way? Looking back would you say it's been easy or smooth in retrospect?
The road hasn't been necessarily smooth, but there have been some speed bumps; from just getting people to trust you (in Phoenix and in Memphis) because YES I did play ball, but parents just want their kid around someone that wasn't trying to get over on them and just take their money.
Better yet, they really just wanted someone they could trust that would bring the best out of their child. The only thing smooth at this point is the fact that I know the game of basketball, and I understand what players need to work on.
I also realize how badly young men and ladies need positive role models in their life, so that is what really makes what I do such a smooth road.
Thanks for sharing that. So, maybe next you can tell us a bit more about your work?
I specialize in basketball skills development and mentoring; I am known around the city as the trainer who hosts multiple basketball clinics for the youth ages 5-10, and I am also known for training the underdogs and beginners. There is nothing at all wrong with training five, four, and three-star players, but I enjoy the hunger that kids/young adults have to be great and prove to others that they belong.
Players and parents who come to me know me for being so active and involved in the kid's training sessions, from running sprints to demonstrating moves, and even playing 1 vs. 1 & 5 vs. 5 from time to time. My energy has to be high for the youth, and I want to make sure that every rep they complete Coach Allen is right there with them.
What I am most proud of is the growth of confidence and progression of my players. Don't get me wrong, I love being around the players but I get excited about the next 2 to 3 weeks before it even happens. Why? Transformation! This can only happen when, like A1 Hoops Elite's motto, every move you make is made with purpose. My mission is for the parents to see a complete transformation in their minds and in their game, if I can get a hold of the mind, the self-esteem, the confidence, and the swagger it will all transfer into their physical on-court skills.
I believe what sets me apart from others is my patience. You will never hear a player or parent say that I gave up on them, once I am committed to getting you from point A to point Z there is no stopping at point E. We will finish the work, we will move with purpose, we might complain but we won't give up.
Working with kids in the public school system really prepared me greatly for the excuses, the "I can't do it", and the "This is too hard". Now when I hear excuses, "Can't do it," and this is too hard, I just stick with the program and make the drills a little more challenging yet fun!
What matters most to you? Why?
What matters to me most is my faith in God and my family. Why?
God is my everything, He is the reason I am on the path I am now because He ordered my every step. Secondly, my family, are the most important people in my life, from my amazing wife to my adventurous and happy little boys.
Moving with a purpose makes them all valuable, there is nothing I can't do without God & anything I can't do without the love and support of my family.
Contact Info: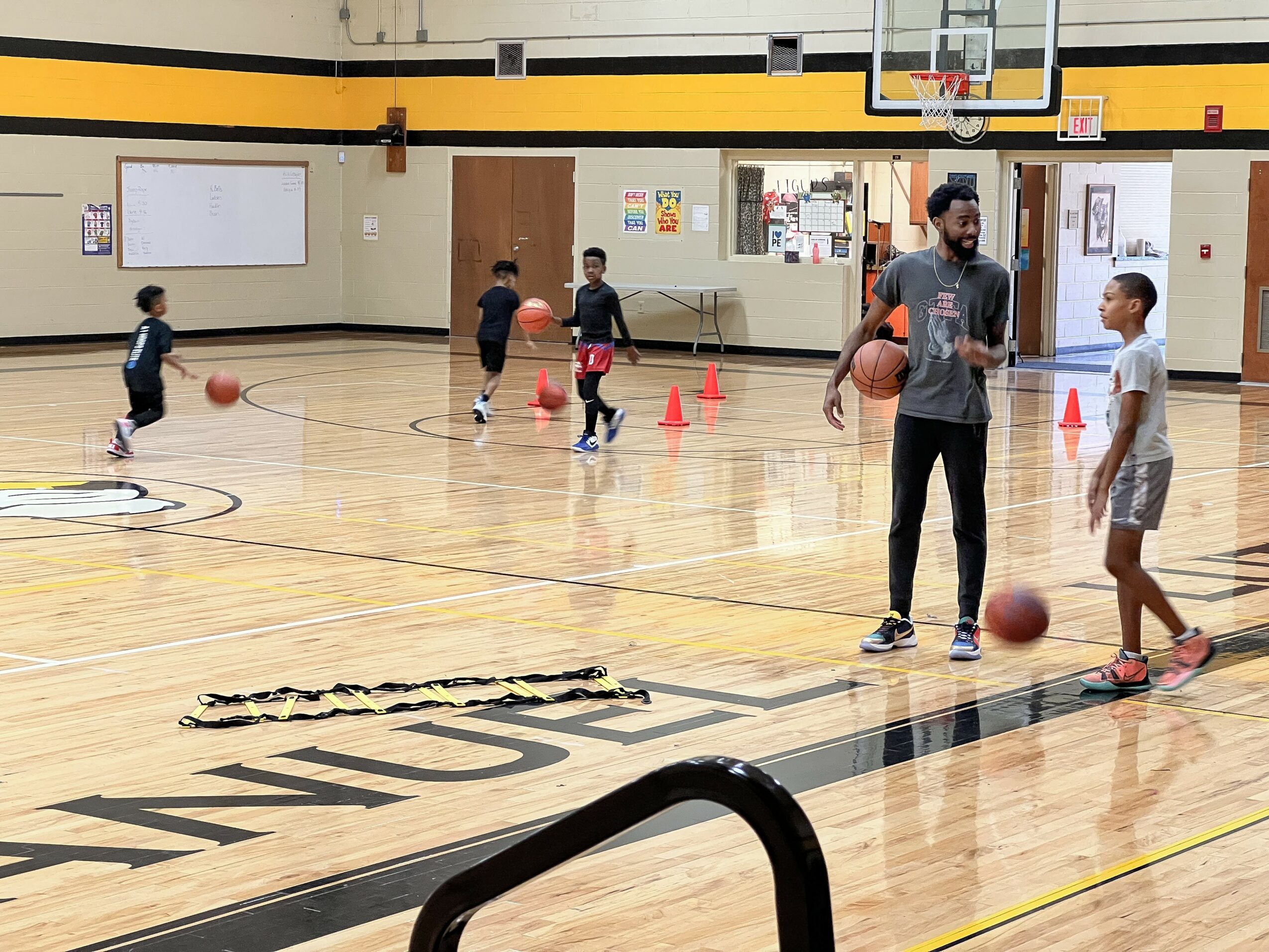 Suggest a Story:
 VoyageMemphis is built on recommendations from the community; it's how we uncover hidden gems, so if you or someone you know deserves recognition please let us know 
here.